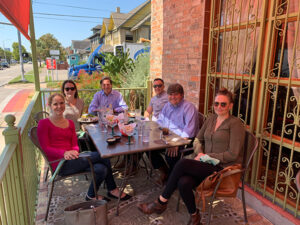 Come join our growing team of boutique commercial real estate agents in Houston. We are always on the lookout for eager real estate professionals who share these characteristics:
Entrepreneurial
Inquisitive and eager to learn through hands-on experience
Committed to client responsiveness and going the extra mile.
Genuinely kind to customers, coworkers, and everyone you meet
Super honest and filled with integrity
Prepared to do whatever it takes to act in the best interest of our clients
With real estate agents who fill the criteria above, we get great reviews, enjoy working together, thrill our clients, and make a pretty good living doing it.
Our real estate brokers are involved in all aspects of the business and will work on projects like:
Selling a cool 1930s building in Houston's urban core
Finding just the right retail space for a hot fitness studio
Leasing space in a historic part of town to a trendy restaurant
Our work is varied, and no two days or two deals are the same. We work with many company owners and entrepreneurs whose real estate investments are critical to their success. Client happiness is the job.
How to Apply
To be considered, submit your resume and your responses to the following questions in a cover letter addressed to Mark Davis, at mark@davis-commercial.com.
What attracted you to Davis Commercial?
Why do you want to be a commercial real estate agent?
Why would you be a successful commercial real estate agent?
What are you really good at and why?
Give an example of either being entrepreneurial or being persistent and not giving up.
We are excited to expand our team and look forward to hearing from you.